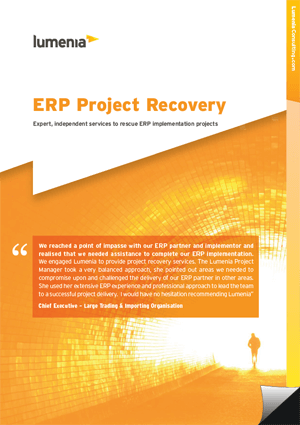 Implementation of a new ERP solution is a highly complex project, usually involving every part of an organisation. An ERP project is also resource intensive and expensive and is something that most organisations will undertake only once every 10-15 years.
Given this lack of experience, it is not surprising that many of these projects end up taking a lot longer than planned and costing much more than expected. In some cases organisations end up in a situation where the ERP project is uncompleted, most or all of the budget has been consumed and the relationship with the ERP vendor has broken down.
Lumenia provide ERP project recovery services to rescue projects that are in difficulty, whether this is a total project breakdown or merely one that is out of control. We have worked on hundreds of ERP projects and use this experience to quickly identify the root cause of the issues causing the problems. All Lumenia ERP recovery assignments are led by a consultant with a minimum of 20 years ERP experience. 
Find out more about Lumenia's ERP project rescue and recovery service. 
The Recovery process starts by us carrying out a short project diagnostic. This will involve interviews with key internal and external stakeholders, including the ERP vendor, as well as a review of all project documentation. Following this, we will prepare a presentation for senior management outlining the issues and our recommendations to get the project back on track. Our involvement following this can range from high-level project oversight to taking over responsibility for completion of the project.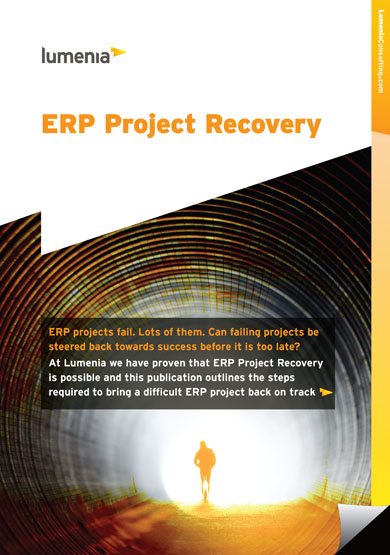 ERP projects fail, lots of them. A simple search will yield claims of between 50% and 88% of projects failing and they can fail for a variety of reasons.  
Can a failing project be steered back towards success before it is too late? 
At Lumenia Consulting we have proven that ERP project recovery is possible. Our latest white paper, ERP Project Recovery outlines the steps required to bring a difficult ERP project back on track. Download it today from the Publications section.