Many ERP projects result in significant changes to business processes, work practises, roles and even organisational structures.
If changes are not managed in a controlled manner, it is likely that even a well-designed software solution based on good practise business processes will not be readily accepted by all users, which in turn is likely to prevent all of the intended business benefits from being realised for the organisation.
The Lumenia ERP Change Management Process
This process addresses the challenges using a structured approach to transitioning individuals, teams, and organisational units from the current state to a desired future state post the ERP implementation.  The Lumenia Business Change Manager utilises a methodology consisting of 5 inter-related streams as summarised in the diagram below: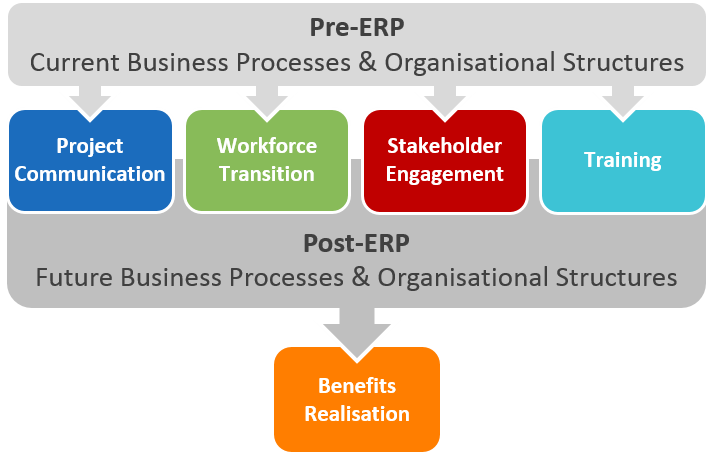 How we add value
Much stronger likelihood of benefits realisation following project completion

Significant reduction in resistance to change

Clearer, more effective communication fully aligned with the project objectives and plan
Our solution
Benefits realisation
Benefits realisation is concerned with the identification of project benefits and putting in place the structures and processes to help ensure that those benefits are realised. Lumenia's benefits realisation stream begins by identifying and where possible quantifying expected project benefits and developing a plan to ensure those benefits are realised once the implementation project has been completed.
For quantifiable benefits, Key Performance Indicators (KPIs) are identified and the current baseline level of performance, where this exists, is recorded.
At key milestones during the project, requirements that are benefit enablers are reviewed to ensure the organisation is on track to realise the identified benefits.
Project communication
Managing project communication is concerned with ensuring that there is a structured process for imparting key project information to stakeholders or stakeholder groups.
Communication events will vary for each project but Lumenia's approach will typically include a launch presentation and further updates at key project milestones such as end of design, end of test and project go-live. Significant changes to business processes or organisational structures may also be communicated to the broader organisation as part of this stream.
Workforce transition
Workforce transition management involves identifying the areas of the project that will have an impact on workforce roles and responsibilities and guiding the organisation from the existing business processes, work practises and organisational structures to the new versions of each that will exist after the new ERP solution has been implemented.
The Lumenia Business Change Manager works with the stakeholders to identify the business processes and organisational structures which are most likely to experience change as a result of the implementation. The impact of these changes to current roles and jobs are assessed and a plan is put in place to communicate these changes to the relevant stakeholders.
Where the changes to existing roles are significant, or where roles are to be discontinued or created as a result of the new system implementation, detailed job transition plans are developed and executed working in tandem with the client HR function.
Stakeholder management
Lumenia's stakeholder management stream starts with the development of a stakeholders engagement plan. It usually includes interviews with stakeholders to understand and document any concerns or suggestions they may have in relation to the project, their preferences with regard to communication during the project lifecycle and to discuss with them how best they can support the project objectives.
Meetings with stakeholder groups may be supplemented in some cases with surveys of the broader group membership so that attitudes to the project and understanding of the project objectives can be gauged and managed.
Training
Training is concerned with the identification of learning needs, development of a detailed training curriculum, production of training materials using the most appropriate delivery medium and the effective delivery of training.
For more details please go to the Training Section