The ERP HEADtoHEAD™ event offers a unique opportunity to see the leading ERP products pitted against each over two days. The events are run annually in Ireland, UK and The Netherlands. 
The events are aimed at organisations that are planning to upgrade or replace their ERP systems. They provide an ideal opportunity for senior finance or IT executives and members of their ERP selection teams to efficiently reivew the leading ERP products and to learn how to manage their selection process so that risk is reduced and benefits are maximised. The event is facilitated by Lumenia Consulting and have had 11 successful runnings of the event to date. 
Very well organised, great structure to the event. It made good use of my time. Excellent event.
- Finance Director, Large Chemical & Food Ingredient Manufacturer
Next event
UK ERP HEADtoHEAD™
The 12th event is taking place on 12 / 13 March 2019 in the DoubleTree by Hilton, Milton Keynes, UK. This will be the 4th running of the event in the UK. 
At the event, twelve leading ERP products are pitted against each other over two days. Delegates can choose to attend presentations focused on Finance, Production, Procurement, HR, Projects and Sales. Attendees can make a choice – attend for one day and review three/four products or attend for two days and review seven.
ERP products to be demonstrated include SAP S/4 HANA, IFS,  Epicor, IQMS, Oracle ERP Cloud, SAGE Business Cloud, Microsoft Dynamics 365, SAP Business ByDesign, Unit 4 and SAP Business One.  In addition, each vendor will have an individual demonstration stand, where specific project requirements can be discussed in between presentations.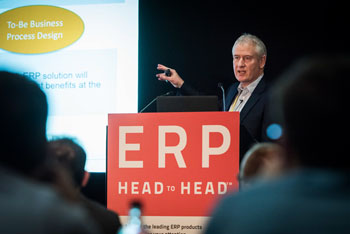 Each product will be presented once each day, with presentations taking place in three parallel streams. All demonstrations will be based on defined high-level Scripts covering Finance, Production, Procurement, HR, Projects and Sales. Special discounts apply for early bird booking and for more than two attendees registering per company. 
For further information visit the event website at www.erpheadtohead.com or contact Linda Davey on 00 353 91 746940.