Solid ERP Contracts are a foundation of successful ERP projects
A truism of ERP projects is that they are not IT projects. This is usually used as a rallying call for line of business involvement in the implementation and to kill off any expectation that an IT department can implement ERP alone. It also hints at another aspect of ERP projects. They are not simply a matter of a vendor installing technology or software. ERP projects are collaborative design and build projects that get to the heart of business processes. Without having clearly contracted scope, responsibilities and deliverables – like any design and build project - they can run far over budget and schedule and diverge from any original notional scope. So ERP contracts are clearly a foundation for successful ERP projects.
Click Play for a 40 second video summary of this blog.
Our latest publication, ERP Contracts: A foundation for controlled ERP projects outlines some key contract components, factors and options to be considered when contracting partners for an ERP project.
Some highlights from the report include:
Core implementation services contracts and statements of work - These are possibly the most important commercial documents to spend time getting right. We discuss what should be included to ensure scope is clear and responsibilities understood.
Other implementation services contracts – We consider what additional services might be required apart from what your software vendor or systems integrator might provide. These can range from specialist training to hosting services.
We discuss service contracting options from prime-to-sub-contractor relationships to multi-vendor programme management.
Cost of ownership services such as ongoing support. We highlight some questions to be considered when contracting these services.
Software licence and subscription agreements. We outline the main agreement types and the questions to be considered to get the most appropriate agreement, for you, in place.
For each of the above we outline the risks and some contractual mitigation options to help you cap your

ERP Selection

 

process with a solid set of commercial agreements.
ERP Implementation programmes are complex, often with multiple contractual agreements involving multiple parties. Lack of clarity or ill-considered detail in these will almost certainly lead to expectation gaps and pressures on budget and scope during implementation.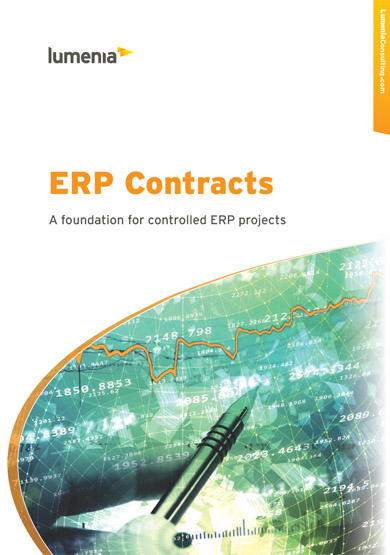 This blog was written by Ian O'Toole, Consulting Manager at Lumenia. For further information please send an email to Ian O'Toole