Your ERP partner – in for the long haul – some considerations
When selecting the ideal ERP solution for your business you are also selecting your ERP implementation partner. This is a key relationship that continues – and can deliver significant additional benefit to your business – long after the dust has settled on the implementation.
ERP buyers will naturally focus on functional fit when evaluating ERP solutions. However, it is equally important to assess the implementation partner and what they bring to the implementation process. Additionally, it is important to understand what this key relationship will be like once the implementation has concluded.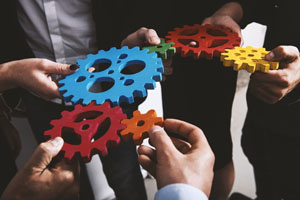 Here are some key considerations when evaluating potential implementation partners.  
Assess their sectoral knowledge and track record
While most businesses have much in common and operate according to generally accepted processes in many areas, almost all businesses have some industry specific or unique requirements that can be challenging to address with many ERP solutions. In Lumenia we use the term "differentiator requirements". Use structured demos to assess the vendors' ability to address your specific unique challenges.
Confident vendors will be more than happy to facilitate reference checks – either meetings or calls – with other satisfied clients who faced similar challenges. This not only gives confidence in the vendors' ability to deliver a successful implementation – it also gives confidence in their ability to continue to meet your future needs as they evolve.
Cultural fit
It is important that the partnership is a good fit for both parties. In this case it is worth exploring how the approach and culture of both parties will meld to produce a successful working relationship. This can be challenging, and is much more subjective than assessing functional capability, but it's important to take a view on your likelihood of working successfully with each vendor in the long term. Use reference checks to check any concerns you may have, and canvas opinions from those involved in the procurement process.
Post implementation support
Once the initial implementation has been delivered, this does not mean the relationship with the partner comes to an end. You will most likely continue to engage with your partner for ongoing support, system enhancements and upgrades. Once again reference checks play a vital role in assessing the vendors' bona fides and ability to deliver.
Involvement in industry forums
It's generally a good sign if an ERP vendor or software author participates in industry forums and user groups. If your potential partner is involved in this type of activity, it indicates they may have earlier insight into the future shape of your industry – and you may benefit from having early access to new functionality as it evolves.
Summary
When you invest in an ERP solution the implementation partner is just as important as the software. While the initial evaluation of a solution's functionality and capability is important, of equal importance is the evaluation of the implementation partner to ensure the ongoing relationship is both productive and beneficial.
Make sure to assess them thoroughly. The ideal partner should:
deliver a solution that meets your needs

work in partnership with your organisation

provide the level of support you need

help your organisation to drive value from your investment in ERP
This blog was written by Gerry Savage, Principal Consultant at Lumenia. For further information please send an email to Gerry.