Four Change Management Questions Answered!
The audience at our latest change management webinar was particularly engaged and asked some great questions. So good in fact that I thought it would be worth repeating them here, with a summary of the answers we provided to each.
Question 1: Process and Organisational Structure Change
You talked about changes to processes and to an organisational structure. When should the re-structuring be done – before, during or after an ERP implementation? 
If the re-structuring involves a change to business processes, sometimes parts of this can be done before or during an ERP implementation. It really depends how embedded the new ERP will be in each process and how much change is involved. If part of the process happens outside of ERP, then it may be possible to implement some of the changes in advance of the project. More significant changes or those which depend on the new ERP really need to come into play in parallel with the go-live of the new system. Similarly, most organisational restructuring that happens as a result of ERP will also need to wait until the new system is in place. While the process and organisational changes in these instances occur after the ERP go-live, all of the preparatory work happens in parallel with the ERP implementation.
Question 2: Stakeholder Engagement and Communication
Your methodology talks about stakeholder engagement and communication. What are the most effective ways to get our people bought into the change and keep them informed?
Really this question is best answered in two parts. We have found that the most effective way to get people bought into change is to be able to answer the "What's in it for me?" question. To do this, it is vital to understand both the impending changes and the potential business benefits from the perspective of each stakeholder group. It is much easier for people to accept change if they can understand clearly what will happen and the associated positive consequences. Even in the difficult scenario where there are no direct benefits to a given stakeholder group, being able to paint a picture of the benefits that will be realised in other parts of the organisation can help to build support for the project.
The second part of the question about the most effective way to keep people informed does not have a single "right" answer. One of the reasons we break people into stakeholder groups in change projects is that different stakeholders will have different preferences when it comes to communication. Some will want regular face-to-face meetings with time for questions and discussion, while others are happier receiving occasional short emails summarising the key points. So, really the most effective means of communication is that which works best for each stakeholder group.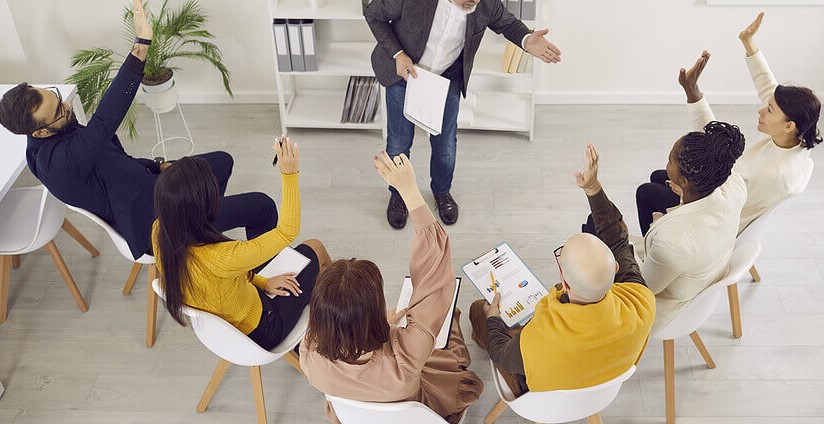 Question 3:  Ideal Profile of a Change Manager
You mentioned that the project manager can't necessarily take on the change management tasks. What kind of resource is required to be a good change manager and is this a full-time role?
An ideal change manager will be able to combine the structure and discipline that one might associate with a project manager, with the listening skills and empathetic character typical of a good "people person". In addition, a change manager needs to have excellent written and verbal communication skills and ideally a really good grasp of the business processes that are in scope for the ERP project and at least a base level of general ERP system knowledge. So, all told, it is not easy to find a really good change manager!
Whether the role is full-time or not, really depends on the scale and scope of the ERP project and the amount of process and organisational change that can be expected. Many of the projects that we support do have full-time change managers, but this is not always required, particularly if there are internal resources who can pick up or support some of the change activities.
Question 4: The Role of Training in Change Management
Why is training part of the change management methodology? I thought the ERP vendor will train our people.
The ERP vendor will typically train a very small subset of your people – generally the functional or process leads who have been involved in the design and test of the new system. The idea is that these people will then train their colleagues. However, for this so-called "train-the-trainer" approach to work, a training needs analysis firstly needs to be carried out to determine what level of training is required for different types of users. Once this has been done, a training curriculum needs to be defined, which sets out the training activity in terms of training classes and material. Following this a detailed training plan needs to be developed, which books groups of users into training events. Then the training material to support the curriculum needs to be developed and finally, a process needs to be put in place to measure the effectiveness of training once it has been delivered. The ERP vendor is generally involved only in the very first part of all of this work. The remainder needs to be done with internal resources. The management and delivery of this activity sits in the change management space because user acceptance of the new ERP system and processes depends significantly on the quality of the training that is provided.
This blog was written by Sean Jackson , Managing Director at Lumenia. For further information please send an email to Sean Jackson.