Is a single global instance ERP strategy right for you?
Organisations with multiple divisions often find themselves with a systems landscape that's failing to meet their needs, particularly where the growth has come about through acquisitions.
A good place to start is to examine if one ERP solution in all divisions based on a single global instance might be an appropriate strategy.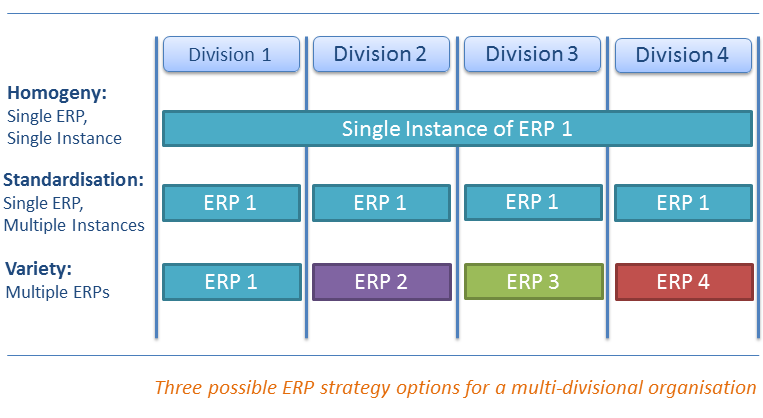 Here are 8 questions to ask:
1. Is there a requirement for common master data across divisions?
If your divisions operate independently, and there is little or no overlap on master data (mainly product-related data, but also customers and suppliers) then there is less need for a common ERP solution.
It follows that where master data is shared (for example where products from one division are used by another division, or there is a shared customer base) then the ability to manage the master data in one system may be important.
2. Is there a desire to have common business processes across divisions?
A single-instance ERP will make it easier to deploy and maintain common business processes in the organisation.
3. Do you have a high volume of inter-company transactions?
High volumes of intercompany transactions are easier to manage with a single-instance ERP solution.
4. Do you aim to have a single HR organisation managing your workforce across the group?
Some organisations manage their workforce as a single group, although they are actually dispersed across many sites, countries or divisions, and may value having HCM and employee record management tightly integrated to ERP processes. It is much easier to do this with a single instance ERP.
5. Do you currently have, or do you plan to have, either centralised/global functions or shared service centres for the group?
Many organisations look to achieve cost savings by implementing group-level functions or shared service centres, and a single-instance ERP makes this easier to achieve.
6. Do you aim to have a single IT organisation managing systems across the group?
It will be easier for a group-level IT function to manage one common ERP system across the group.
7. Do you have centralised charging of costs to group companies?
This is much easier to manage with a single-instance ERP solution.
8. Do you need cross-divisional comparative reporting for operations?
Many organisations want to measure and report on operational KPIs across the group; this is easier to achieve with a single-instance ERP.
If you've answered yes to most of these questions then one ERP solution in all divisions based on a single global instance could be the right solution for your organisation. Hopefully these questions can help guide your thinking. There are usually many potential options, and the best one isn't always obvious. Multi-divisional organisations can be highly complex, with many different aspects requiring consideration. Whatever choice is made will have long-lasting implications, so it's important to take stock, consider the various options in an objective manner and develop a sound and achievable systems strategy that the organisation can implement with confidence.
To find out more about single instance ERP and other ERP strategy options download our latest white paper ERP Strategy Options for M&A Driven Growth in the Publications section. 
This Blog was written by John Donagher, Consulting Manager at Lumenia. If you would like further information on ERP please send an e-mail to John Donagher.