The traditional means of doing To-Be business process design is to document each As-Is process before performing a gap analysis to identify improvement opportunities.
We believe that in most cases it is not necessary to document As-Is processes, as we can identify the gaps more efficiently by carrying out Pain Point analysis and Business Process Benchmarking. We have further accelerated process design by building an extensive library of good practice business process diagrams which provide a ready-made starting point for process mapping.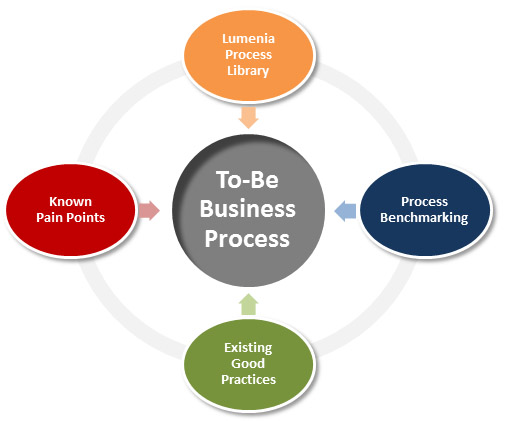 The business process design work is led by an experienced Lumenia consultant in a workshop environment involving the process owner(s) and subject matter experts, using the inputs shown above. The outputs are captured in Visio format during and following each workshop. Often a single follow-up review session is all that is required to finalise each business process design.
The To-Be process documents can be used as the basis of process improvement initiatives, as part of an ERP selection process to assess vendor and product capability or during ERP implementation to accelerate the design stage of the project.
Benefits of our Approach to Business Process Design
Accelerate ERP or business process design projects by avoiding the need to spend time documenting As-Is business processes.

Use Lumenia's library of good practice business process diagrams to further speed up process design.

Learn from proven business processes that have been implemented in other sectors and organisations.

Expertly facilitated workshops involving cross-functional teams will result in better business processes and higher levels of organisational buy-in.