What is IT's Role in Developing an ERP Strategy and Selecting an ERP Solution?
At Lumenia Consulting we often help our clients develop strategies for changing ERP and help them select new ERP solutions. While we always advocate that ERP projects are business change, rather than IT projects, the IT department does have an important role to play. The nature of this will depend to some degree on the nature and capabilities of the existing IT organisation:
A strong IT team with an experienced CIO – normally will have a coherent IT strategy in place and is actively working towards this.

An IT team that has traditionally played a supporting role – has great knowledge of existing systems and issues but is not strategically directed.

A small or non-existent IT team – IT systems are ad-hoc and disparate with few people having an understanding of the systems in place.
Click Play for a short video summary of this blog 'What is IT's Role in Developing an ERP Strategy and Selecting an ERP Solution?'
Each of the above scenarios requires a different approach and starting point.  Each may need different levels of assistance from consultants like Lumenia. Inputs that IT will need to provide in determining an ERP strategy will typically include:
Outlining existing architecture and infrastructure.

Specifying any data residency or security requirements.

Collating user numbers across all systems.

Detailing existing integrations.

Detailing customisations in the existing ERP and related systems.

Preparing a breakdown of systems running costs.

General IT considerations (such as ageing technology) that may influence which systems should be in or out of scope.
All of the above is very useful information to support the definition of an ERP strategy and will help prepare the ground for a selection process. During the ERP selection process, IT is a key stakeholder and will play an important role in evaluating vendor proposals in areas such as the following:
Deployment methods.

Architecture and infrastructure.

Data residency options and security capabilities.

Reporting toolset capabilities.

Integration requirements and methods.

Technical resourcing requirements –

During implementation,

Post Go-Live - support, administration, and ongoing enhancement.

ERP partner capabilities.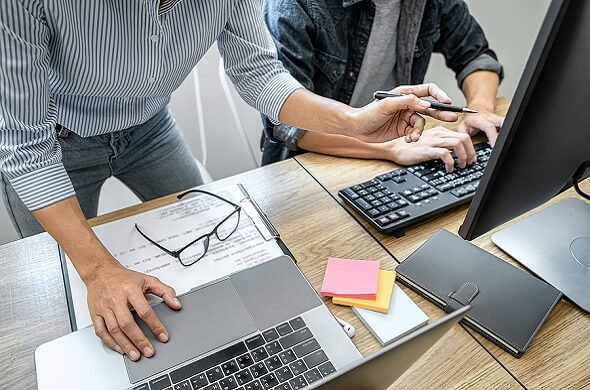 As can be seen, IT should play a significant role in ERP strategy development and solution selection.
A pre-requisite, however, is strong sponsorship and engagement from the rest of the business, who will help to define business processes and document the business requirements. If both IT and the rest of the business are working closely together in partnership, it greatly increases the likelihood of the right ERP system being selected, a successful implementation, and an ERP system that will have a lifespan of many years!
This blog was written by Principal Consultant, Gregg Roche at Lumenia. If you would like further information on your ERP Strategy or Selection project please send an email to Gregg Roche.