3 tips for comparing ERP costs
One of the trickiest parts of selecting a new ERP system is comparing ERP costs for software and implementation from multiple vendors on a like-for-like basis. Here are three tips that can really help.
Tip 1: Be clear on project scope
One of the things most likely to cause headaches when comparing ERP costs is having data that can't be compared on a like-for-like basis. This often happens when the project scope is poorly defined, leading vendors to include software elements they believe might be needed. The functional scope will have an impact on the modules or apps required and as many systems are priced based on modules or apps this can have a significant impact on cost. Of course there are always scenarios where it's not a black-or-white, in-or-out decision. A good approach is to list what's definitely in scope, what's definitely not in scope, and what's optional so that these can be costed out separately where possible.
Tip 2: Spend time determining user numbers
This may seem beyond basic, but I rarely work with a client who finds it easy to work out how many ERP users they need. Given that for most software this is the basis for calculating what it will cost, it's clearly a task that deserves some attention. There are all sorts of obstacles though, making this trickier than it sounds. Even working out how many people are using current systems is often difficult, and it can be particularly difficult to establish what they're actually using it for. It's also important to understand what features of the new software users are going to be using (which often involves replacing existing best-of-breed systems and spreadsheets). All of this can take some time, particularly for larger organisations with multiple sites or divisions, but having a decent level of clarity on users and their roles will help hugely with ensuring vendors are pricing the software that's actually needed.
Tip 3: Take an initial "starting point" view on implementation phasing
Typically the biggest external cost element in an ERP implementation is the services provided by the implementation partner. A key variable in determining these is how the project will be phased. This impacts duration and how many consultants will be required on the ground at any one time; both have an impact on services costs.
For many implementations, a "big bang" go-live simply isn't a realistic possibility. There can be lots of good reasons for this, such as risk concerns, dealing with multiple sites or business units, technical considerations, and other business imperatives. It's often not clear what the best phasing approach is, and the only thing that's obvious is that it has to be phased in some way. Agonising over this for too long early in the selection process isn't helpful, but how do you get past this roadblock? The selection process will take some time, offering the opportunity to work through the phasing options in parallel, so the most expedient approach is to come up with a phasing approach that's plausible and use this as the basis for gathering information from vendors. All vendors bidding against the same assumed phasing approach will make it easier to analyse their costs.
To find out more about ERP Costs, download Lumenia's How Much Does ERP Cost? white paper from the Insights section of the website.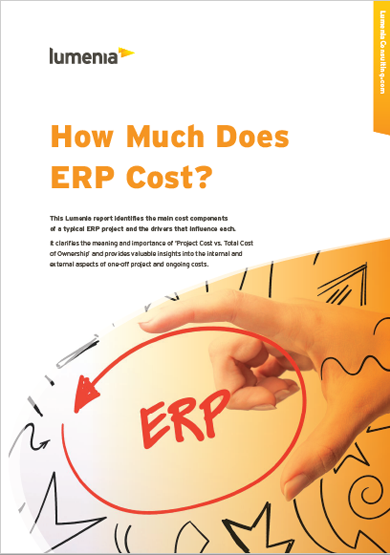 This blog was written by Consulting Manager John Donagher of Lumenia. If you would like further information on ERP Costs please send an e-mail to John Donagher.