ERP Market Trends 2022
Independent ERP Consultants, Lumenia Consulting partnered with leading industry magazine ERP Today for an in depth look at the market in the ERP Today Vendor Review 2022. Having reviewed ten leading ERP vendors in preparing the report, we would like to share a few thoughts on the ERP market in general. We have selected four ERP market trends to highlight this year.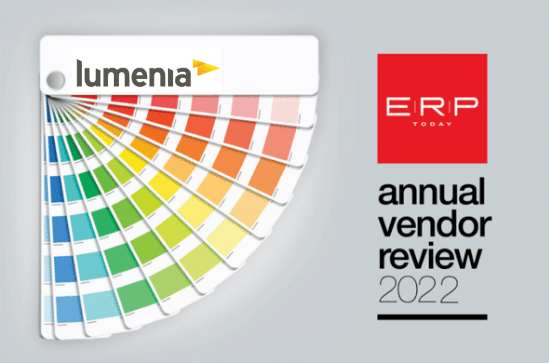 Securing Supply Chains
During the first year of the pandemic the focus for most enterprise technology vendors was on enabling business continuity in remote environments, fostering connectivity and accelerating digital initiatives. ERP vendors were no different in this regard. Over the second year of the pandemic those achievements and initiatives, still in play for many, were built on with an additional focus on securing fragile and disrupted supply chains. Organisations in many sectors needed to closely monitor and reorganise supply chains to account for such diverse external factors as temporary lockdown-induced supply interruptions; a need for agile reaction to massive demand growth, for some, and sudden drops for others; and a re-drawing of political and trading relationships impacting the viability of some supply routes. The ERP market has reacted with an increased focus on extended supply chain analytics, AI driven agility and procurement spend control. Microsoft's D365 Supply Chain Insights and enhancements to Oracle's Fusion Procurement Cloud are just two examples of this trend.
ESG and Sustainability
A second area of development for ERP vendors that we expect to see much more of in the near term is an increasing focus on supporting their customers' environmental, social and governance needs. ERP customers need to ensure and evidence their sustainability credentials, whether motivated by altruism, impacts of the climate crisis, the demands of green investment funds, regulatory requirements or pressure from their own customers. At Lumenia we are seeing this come up more and more when helping organisations determine their solution requirements. Some ERP vendors are ahead of the curve, SAP's Product Footprint Management solution being one example. Others are introducing incremental additional capabilities in this area and we expect to see that trend accelerate over the coming years.
Open Architectures
The transition to open architectures has been on the agenda for a long time now and continues to be important. All of the vendors covered in the report have moved in that direction, some for quite a while now and the rest catching up with a number of replatforming releases over the past two years. Initially this enabled easier integration to other packaged solutions. Increasingly that openness has also allowed ERP business processes to extend beyond ERP.
Optimised and Extended Business Processes
A revolution of sorts, enabled by open architectures, has been gathering steam. Optimising and extending the reach of ERP business processes is being enabled by a variety of tools. These range from low code/no code solutions to business process diagnostic and orchestration solutions. An example of the former is Microsoft's Power platform, a suite of low-code/no-code applications, which allows organisations to build and connect custom workflows and apps to ERP with minimal complexity. In the latter category, SAP's Business Process Intelligence from Signavio supports business process improvement by providing automated analysis of deployed business processes, identification of improvement opportunities and orchestration and governance of business process management initiatives. Another example is Workday Everywhere, which allows employees to quickly access Workday in their natural flow of work in digital workspaces such as Teams or Slack.
Many of the other ERP solution vendors discussed in the report also have tools and capabilities to support the extension and optimisation of ERP business processes. These are now extending beyond basic workflow tools into much more open platforms. Beyond the ERP market, a range of solutions, from vendors such as OutSystems and ServiceNow, are providing alternative routes to custom workflow deployment and business process automation. Far from diminishing the importance of ERP to modern organisations such developments may provide opportunities for it to enable and support previously unattainable automation.
This blog was written by Ian O'Toole, Consulting Manager at Lumenia. For further information please send an email to Ian O'Toole