Digital Transformation and ERP – Accelerate Business Process Design
I have written elsewhere about the benefits of starting work on business process design in advance of ERP projects – see the recent blog 5 Reasons to Focus on Business Process Design Prior to Implementing ERP.
Traditional approaches to process design tend to follow a similar methodology: do detailed analysis and process mapping of the current state, identify gaps or areas of waste, and then develop new future state processes that address these issues. While this approach can deliver excellent future processes, it tends to be resource intensive, expensive and time consuming. This is particularly the case if the scope of process design is organisation-wide, as is common during digital transformation or ERP projects.
Click Play for a 35 second video summary of this blog Digital Transformation and ERP - Accelerate Business Process Design.
Lumenia have developed three tools that can be used to accelerate future state process design in these scenarios.
Pain Point Analysis:

Using a very simple principle: ask process owners or operators about the business process or related systems issues that cause them the most difficulty (or "pain") and then establish the root cause of each of the issues. The key to doing this well is to conduct process owner interviews that explore the pain points and identify the real issues. These will deliver a rich source of potential improvement opportunities for the future state process design and provide a very clear means of reporting on the number and impact of issues by process, site, or business unit.

Business Process Benchmarking:

By comparing existing practices against generic good practice examples. We have developed a detailed library of such business processes, covering most areas of finance, sales, procurement, HR and operations. This approach allows project teams to review good examples of standard processes, using these as the basis for the future state design. In many cases, the future state process designs can be based very heavily on our standard process examples.

Business Process Capability Assessment:

By using our library of over 400 good practice business process enablers to determine how effectively current processes utilise technology. Each enabler is a snippet of technology-enabled good practice drawn from our experience of working with hundreds of customers over the last 20+ years. We present the enablers to process owners in the form of an on-line questionnaire, which allows for rapid collection of data with the minimum of effort.
Our experience is that these approaches will save significantly accelerate process design. Rather than spend a lot of time and effort documenting processes that are going to change anyway, or on collecting and analysing large amounts of data, our approach is based on the reality that many business processes are largely similar across many organisations and therefore do not need to be re-designed from first principles. Also, in most organisations, the business process owners and operators know what many of the main issues are with their processes. Significant progress on future state process design can be made quickly using this knowledge and sample good practice process flows, supplemented with real-life examples of how technology can be used to provide automation, control, and access to data for decision making.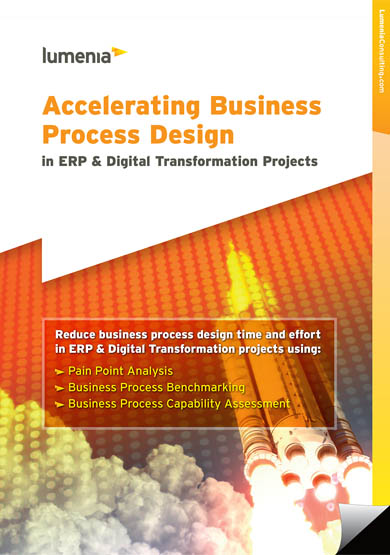 To find out more about how to accelerate business process design prior to implementing ERP, download our latest white paper from the Publications section Accelerating Business Process Design in ERP & Digital Transformation Projects 
This blog was written by Sean Jackson, Managing Director at Lumenia. If you would like further information on ERP please send an e-mail to Sean Jackson.