The traditional means of doing To-Be process development and design is to document each As-Is process before performing a gap analysis to identify improvement opportunities.
We believe that in most cases it is not necessary to document As-Is processes, as we can identify the gaps by carrying out Pain Point analysis and Business Process Benchmarking. We have further accelerated To-Be process development by building an extensive library of good practice business processes which provide a ready-made starting point for the design work.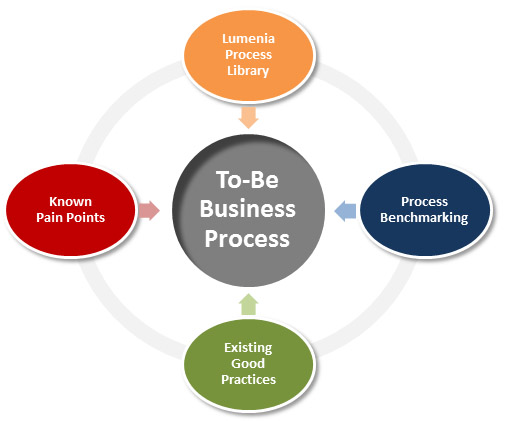 The To-Be development work is led by a Lumenia consultant in a workshop environment involving the business process owner(s) and subject matter experts, using the inputs shown above. The outputs are captured in Visio format during and following each workshop. Often a single follow-up review session is all that is required to finalise each process design.
The To-Be process documents will be used in the ERP selection process to assess vendor and product capability and during the ERP implementation to accelerate the design stage of the project.