Robotic Process Automation: 10 questions to consider
It is well publicised that Artificial Intelligence (AI) and automation will significantly impact the workplace in the next few years. The immediate opportunities include the creation of a digital workforce which undertakes the mundane administrative tasks that workers currently perform. PWC[1] estimate that around 3% of jobs are at risk by the mid-2020s.
Robotic Process Automation (RPA) provides a method to do this for users of business applications. RPA is a software productivity tool which allows business rules and scripted actions to complete processes automatically in the same way that a human would. The robot (or "bot") provides a highly dependable, repetitive service and leaves a clear audit trail as it completes tasks. People are then used for the purposes of exception management and reviewing activity.
RPA may also offer a tactical solution to extend the life of legacy systems where "manual workarounds" overcome process issues that cannot be resolved by other means. Whilst the problems still exist, they can be hidden from users. Compared to ERP implementations, RPA projects are quick to execute.
Gartner[2] reports RPA to be the fastest-growing segment of the global enterprise software market with 2019 revenues to be around $1.3 billion, a growth of around 53% versus 2018 revenues. Market leaders UIPath, Automation Anywhere, and Blue Prism together accounted for just less than 35% of the total market.
 
The best candidates for RPA are stable processes which are high volume, rule-based, and possess both structured inputs and outputs. When well defined, the RPA error rate should be lower than the corresponding manual activity.
RPA is a good solution for processes that see irregular levels of demand as they can easily scale up or down. This can remove the business need to flex the number of people needed to complete an activity.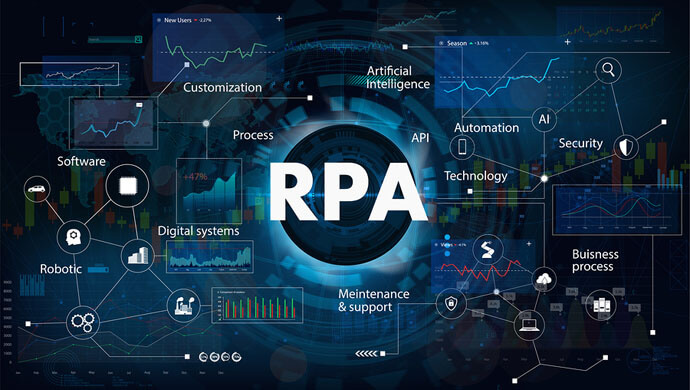 Two examples:
Synchronising data between applications

– suppose you have legacy HCM and Payroll applications which are not integrated. If an employee's details are changed in the HCM system, a bot could be used to replicate the changes into Payroll. It is likely that this bot would work "unattended" based on a trigger from the HCM system.

Unattended robots can be very beneficial in increasing process velocity due to their ability to work 24x7x365.
 

Invoice processing – When an invoice has been received, RPA could be used to automate the data entry into Accounts Payable (AP).  The AP user may need to manipulate the invoices before triggering the RPA, which would make this an "attended" bot.
Develop your "to-be" process before committing to RPA
To paraphrase the American radio and television writer Andy Rooney[3], RPA makes it possible to automate a lot of things, but it's important to make sure that they need to be automated.
So, before committing to your RPA project, it is advisable to undertake relevant "to-be" process development activity. It may be that the problem could be alleviated with a simple process redesign, rather than invoking RPA.
This is also an opportunity to review the functionality within the legacy applications – could the "to-be" process be enabled by making better use of the applications that you already have? If this is the case, then user training may allow you to meet the requirements without adding further complexity to your business application landscape (see also Sean Jackson's blog post on "Getting More Value from your ERP System - Sustaining User Training", particularly regarding upgrades.)
 
RPA key questions
If you have established the "to-be" process and are clear that RPA remains necessary, then you can look to establish the business case for the project. At a minimum, the following should be considered:
Where does RPA fit into the overall enterprise strategy?

Are you looking for an on-premise or cloud

[4]

RPA solution?

What will be the realisable benefit for the "to-be" process – for example, will it lead to deferred recruitment and/or headcount reduction?

Are you clear on the internal processes for exception management and audit?

Have you considered the impact of changing your business process and how this change will be managed?

What will be the total cost of ownership (development costs and operational costs) for the bot?

What is the agreed service level for the bot?

What technical support is available for the bot after go-live?

How is your data secured throughout the process?

How will testing take place following updates to any of the applications that the bot interacts with?
In practice, questions 1-5 are likely to be determined within your organisation; prospective implementation partners will answer questions 6-10. Reviewing all the information together should give you a clear view on if you should proceed and with which vendor. 
This blog was written by Jim Goodison, Principal Consultant at Lumenia. For further information please send an email to Jim Goodison.
[1] How will Automation Impact Jobs? - PWC Report
[2] Gartner Says Worldwide RPA Software Market Grew 63% in 2018
[3] "Computers make it easier to do a lot of things, but most of the things they make it easier to do don't need to be done. " – Andy Rooney
[4] An excellent summary is available at https://insights.ashlingpartners.com/rpa-deployment-options-on-premise-vs.-rpaaas