Preparing your Business Process for ERP
For many businesses, embarking on an ERP implementation is part of a larger programme of change or business transformation. For others, it's an upgrade driven by business risks, opportunities or technology constraints. Whatever the driver, it almost always requires a rethink of existing processes.
At Lumenia, we believe it's never too early to start considering your ideal business processes. The value of mapping future-state or 'to-be' processes before selecting a new system is worth the effort. Here's why:
It presents a real opportunity to identify simpler, more streamlined ways of working, irrespective of systems and technology. Businesses often identify easy opportunities to eliminate hand-offs, reduce unnecessary variation across sites or divisions, and save wasted time.
It provides a logical starting point to derive business requirements for your new ERP system. By mapping your 'to-be' processes you will identify operational needs, complexities and constraints that the system simply must support. Your process maps and business requirements will then become the foundations for subsequent solution design, development and testing.
It kicks off the change conversation and builds critical buy-in as early as possible, by focusing your people on their vision for the future and the impacts of change. This early engagement helps to develop knowledge, understanding and readiness for the project ahead.
ERP software vendors frequently offer out-of-the-box support for 'best-practice' processes to accelerate project delivery for their customers. By carrying out ERP-to-be process mapping before bringing them on board, you'll be better placed to judge where their standard processes will work to your advantage, and where additional configuration or workflow may be required to support your business differentiators.
Lumenia increasingly assists our customers in mapping their 'to-be' processes as a precursor to ERP selection and implementation. Those customers want to ensure their technology decisions are made in the context of clear, well-defined processes for the future, in order to maximise the benefits of their investment and prepare themselves for change.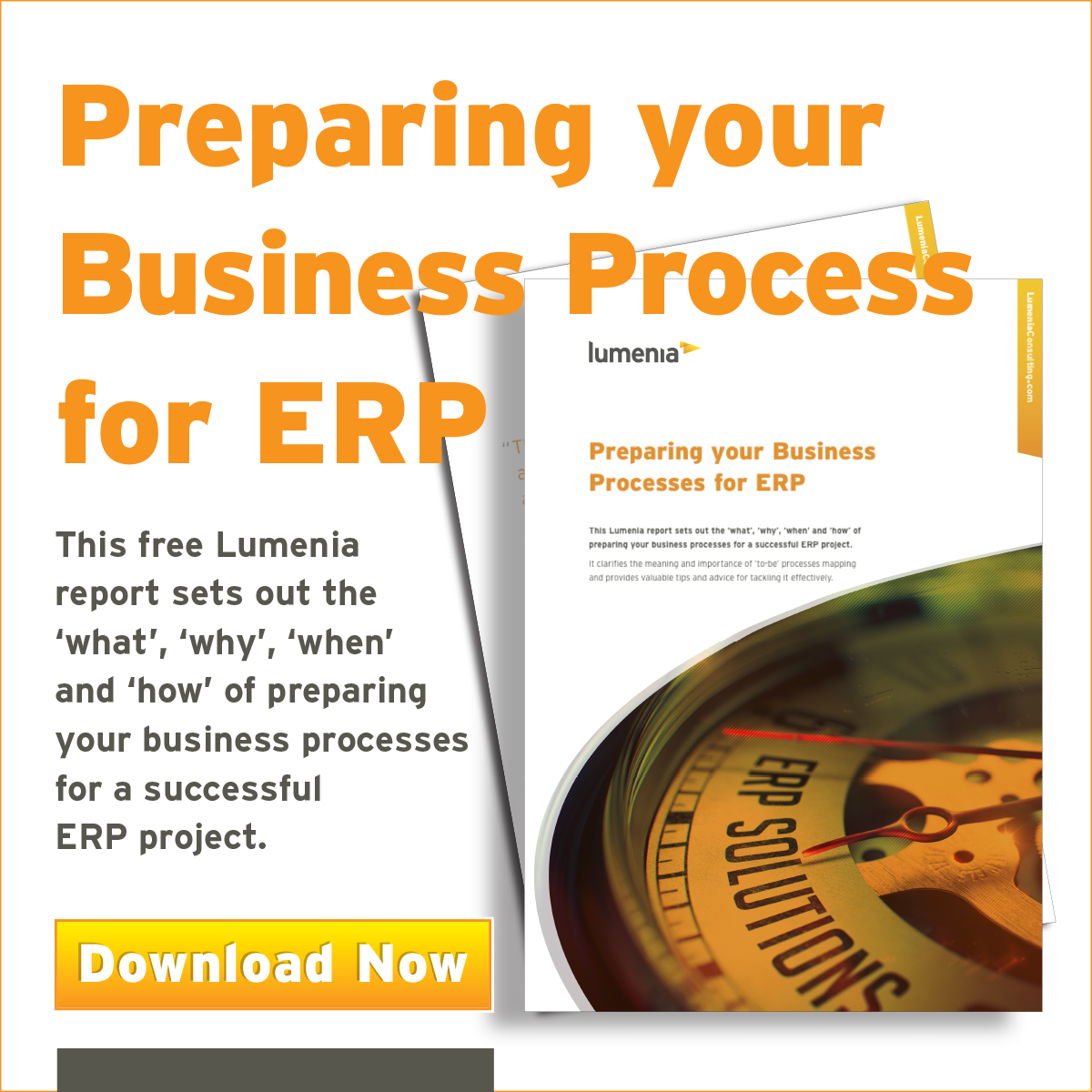 In Lumenia's latest whitepaper, 'Preparing your Business Processes for ERP', we provide ten tips for mapping your desired business processes effectively. Download it now and see how you can use process mapping to kick-start your ERP selection and implementation journey.
This blog was written by Edward Abrahamson, Principal Consultant at Lumenia. For further information on Business Process for ERP send an email to Edward Abrahamson.