Webinar - De-risking your Digital Transformation
Avoid the dangers of wasting money on poorly planned or unstructured digital transformation programmes! Digital transformation planning doesn't have to be a daunting prospect.
Join Edward Abrahamson and Mark McKeigue from Lumenia Consulting at their upcoming webinar 'De-risking your Digital Transformation' on Monday, 17th July at 1pm - 1.45pm BST, as they answer your questions and explore how to avoid costly digital transformation mistakes through effective strategy development and planning. 
Edward and Mark will share their insights on key elements of a sound digital transformation strategy, the importance of addressing foundational IT capabilities and criteria for successful strategy execution.
This webinar includes an interactive Q&A session. Whether you're at the beginning of your transformation journey or looking to bring cohesion to an existing programme, there's something in this webinar for you.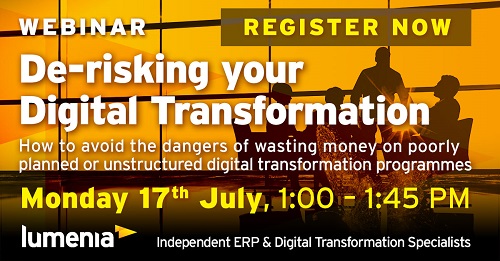 Lumenia Consulting is an independent ERP and digital consulting organisation, specialising in business transformation through the implementation of Enterprise Resource Planning, digital and related enterprise software applications.
Visit our Digital Transformation services page to learn more.
Further information on the presenters.
Edward Abraham
Edward is Lumenia's Digital Transformation services lead. Having joined Lumenia as a Principal Consultant in 2017, he has over 17 years of consulting experience in digital and IT strategy development, enterprise architecture and analysis, technology selection, project and change management, business process design and process improvement.
Edward has undertaken business, IT and digital change initiatives for a variety of public and private sector organisations in the UK, Ireland and New Zealand. His experience spans the financial services, health and pharmaceuticals, research and education, not-fort-profit, justice, utilities, manufacturing and engineering sectors.
Mark McKeigue
Mark is a Principal Consultant in Lumenia, supporting and advising on the delivery of ERP and digital transformation projects. Since joining Lumenia in 2022, Mark has worked with clients on delivering  business systems strategy, ERP selection & business process transformation projects.  
Before Joining Lumenia, Mark spent over 15 years in increasingly senior executive roles supporting the growth of a number of businesses across the hospitality, retail, e-commerce and advanced manufacturing sectors. During this time Mark has delivered successful strategy, selection, and implementation projects for CRM, RMS, E-commerce, ERP and digital transformation initiatives. Mark is passionate about driving value and innovation for clients and brings a unique blend of strategic vision and hands-on execution to every engagement.