New Lumenia ERP Market Review Report just published
Enterprise Resource Planning (ERP) does not attract as much press attention as some other parts of the IT sector. It is rarely mentioned in the same breath as digital transformation, cloud computing or any other headline-grabbers. It is generally perceived to be back office and boring. However, much of what constitutes "digital" relies on the sound foundation of ERP. Modern ERP is comfortable in the cloud, architected for agility, mobile, open and collaborative.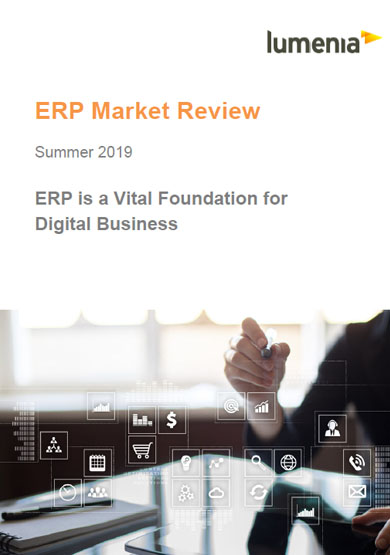 The global market for ERP is estimated to be worth $35 billion USD. It has attracted continued investment from big players, new entrants and venture capitalists, all reflecting the fundamental importance of ERP as a foundation for core business processes in the new digital world.
As a consequence of the extensive breadth and depth of functionality required to support the digital business world, this rapidly growing market has become a very attractive target for the leading ERP vendors such as SAP, Oracle and Microsoft. Each of these organisations is increasing its footprint in the digital market through alliances, acquisitions and new software development.
The 2019 Lumenia ERP Market Review Report discusses the offerings and key developments of the market leaders. The report also looks at Key Trends including Digital Transformation, Intelligent ERP, Digital Marketing and Customer Experience (CX) and Cloud ERP.  It also reflects on what it all means for the market in general, and more importantly to your investment in ERP and related digital business systems.
Lumenia Consulting is an independent ERP consulting organisation, specialising in business transformation through the implementation of Enterprise Resource Planning and related enterprise software applications.
The report is available to download for free from the Lumenia Consulting website at https://lumeniaconsulting.com