Lumenia ERP system selection event returns to Dublin - bigger than ever!
The 22nd running of the Lumenia Consulting ERP HEADtoHEAD™ event took place on 24-25 October in the Crowne Plaza Hotel, Dublin Airport.  After hosting virtual events for the last three years it was fantastic to finally return to Dublin.  This was the largest Lumenia ERP event to date with 14 ERP solution providers demonstrating their software. 
The two day event, facilitated by independent ERP and digital transformation consultants, Lumenia Consulting, allowed ERP buyers to compare 14 leading solutions and see the latest ERP technologies on offer. ERP solutions demonstrated included SAP, Oracle NetSuite, Epicor, Microsoft Dynamics 365, Infor, IFS, Sage Intacct, Herbst, Priority Software, EFACS and Intact iQ. The event featured 28 ERP product demonstrations, three Lumenia good practice presentations, four vendor sector focused presentations and a feature showcase presentation from Infor. The event concluded with a panel discussion comprised of industry end users on 'Avoiding ERP Implementation Mistakes', always an event highlight.
The event kicked off with an introduction from Event Chair Ian O'Toole, Managing Partner at Lumenia Consulting, which was followed by each of the 14 ERP vendors presenting an elevator pitch to introduce themselves to the attendees and convince them as to why they should attend their demonstrations. The delegates then attended various demonstration sessions based on high-level scripts covering Finance, Production, Procurement, Projects, Business Intelligence & Analytics and Sales High Volume.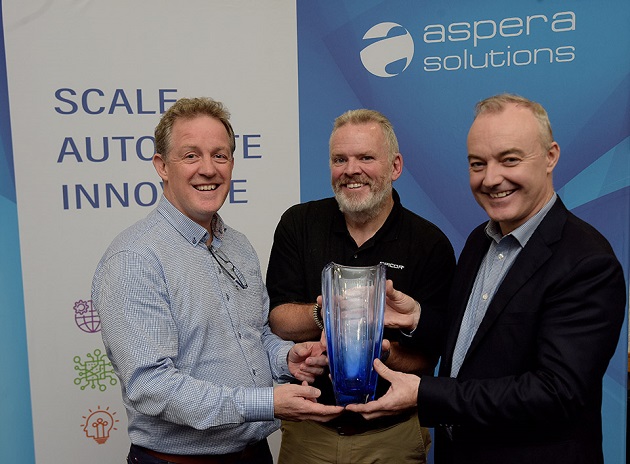 The winner of the "ERP HEADtoHEAD™ Best Vendor Demonstration - Ireland 2023" was Aspera Solutions, demonstrating Epicor ERP – also winner of the March UK event. Aspera achieved an overall delegate satisfaction rating of 91.4%. In very close second were IFS and in third place were Intact.
The next event takes place on 13-14 March, 2024 in UK. For further information and to pre-register check out the event website www.erpheadtohead.com