Lumenia to co-host Anatomy of Success in B2B Ecommerce Event
The Anatomy of Success in B2B Ecommerce event is taking place on April 4th in Adobe Offices in Citywest Business Campus, Dublin. 
Digital disruption has become an everyday challenge for B2B executives while B2B buyers are rapidly adopting more efficient and convenient purchasing channels. 
The Anatomy of B2B Ecommerce is designed for B2B companies that want to create better, more seamless buyer journeys. Hosted by Monsoon Consulting, Magento and Lumenia Consulting, the event will be a productive morning with commerce experts and peers.
Hear Ian O'Toole, Consulting Manager at Lumenia Consulting talk about 'The Importance of an integrated ERP Strategy to eCommerce Success'. A case study will also be presented by Uniphar on Digital Transformation in the Pharmaceutical Industry. Other topics to be addressed during the morning include, B2B Ecommerce Trends and Opportunity; Digital Experience Design for B2B and an enlightening Panel Discussion to conclude.  
This is a free half day event, with lots of opportunity to engage and explore digital disruption and B2B Ecommerce.
As places are limited, register your place today at: https://www.monsoonconsulting.com/events/anatomy-success-b2b-ecommerce-2019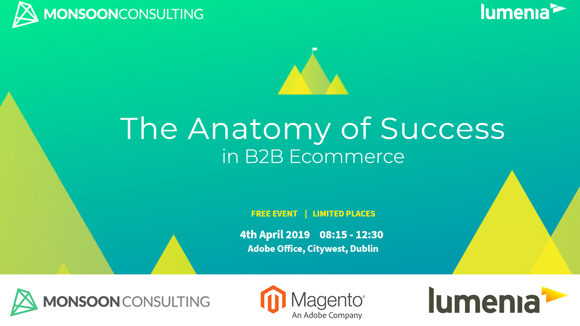 Publication Date
21st March 2019