ERP in the Professional Services Sector
Many professional services companies may not have even heard of ERP or may assume that ERP systems are only suitable for manufacturing companies. Though it is true that most ERP vendors initially developed their products for the manufacturing sector, these systems actually offer an excellent range of functionality that can be deployed into professional services companies at a very affordable cost. These services companies may be dismissing systems that could be perfect for them and allow greater integration of their company's functions.
Professional services companies have a separate set of requirements to manufacturing companies. However much of the core functionality of ERP systems, such as Finance, Human Resources and Purchasing, is common to all types of businesses. While ERP systems in the manufacturing sector would focus heavily on the planning, development and production of a physical product, ERP systems can aid professional services companies in planning and developing projects. It is surprising that in such a project and people-centric sector, many service companies still rely on spreadsheets to manually record all transactions and expenses. Any human error made in this vital area of business can have major implications on the service delivered to a client. ERP software can be used to manage project costing and invoicing more efficiently on an automated system.
Customer relationship management (CRM) is also essential for a service company to run efficiently. CRM, which is often available as a module of ERP, includes contact management, sales activity tracking, marketing and customer service. By integrating CRM into an ERP system, the manual management of these processes is reduced. As mentioned before, the professional services sector is very people-centric. It is important that any function that deals with clients, like customer service, works faultlessly. An ERP system is very effective in this instance as it ensures that all the relevant functions work seamlessly together.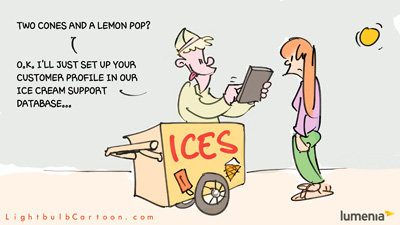 The usability and accessibility of an ERP system plays a crucial role in a professional services environment. This is especially true for service personnel who are working in the field using handheld devices. Also, professionals such as lawyers and accountants, often require access to information when meeting with clients or working outside of the office. The ability for mobile workers to access ERP systems from their tablets and smartphones, using a browser, has improved dramatically in recent years. In addition, some solutions offer the capability to work off-line when an internet connection is not available and synchronise with the ERP system later when a connection becomes available again.
With the emergence of cloud-based ERP systems the affordability barrier has now been removed for many companies. These systems no longer need to be deployed in-house. This is a key reason for the increased use of ERP software within smaller companies as it means that they do not need to employ the skilled IT staff to support the systems. In addition to the benefits of cloud-based deployment, there is also the benefit of Software as a Service (SaaS) pricing models. SaaS allows the ERP system to be funded on a subscription basis rather than having to procure software licenses upfront. Furthermore, cloud-based ERP deployment with subscription-based pricing is rapidly and easily scalable to support the needs of a fast-growing professional services company.
ERP systems are now a very affordable and practical investment for a professional services company. By facilitating greater employee interaction and collaboration, they enable companies to operate with greater efficiency and to deliver optimum customer service. Ultimately, the use of these systems is a major move into the future for the professional services sector.
This blog was written by Frank Crewe, Principal Consultant at Lumenia. If you would like further information on ERP in the Professional Services Sector or on any other aspect of ERP please send an e-mail to Frank Crewe.