ERP and CRM—Tech First Cousins
Enterprise Resource Planning and CRM are technology first cousins—and partners. They are usually separate but so intertwined that CRM cannot function effectively without constant communications with ERP, from orders and sales to logistics and deliveries—and customer credit status. ERP aims to be an integrated set of business management and administration applications that covers all normal activities.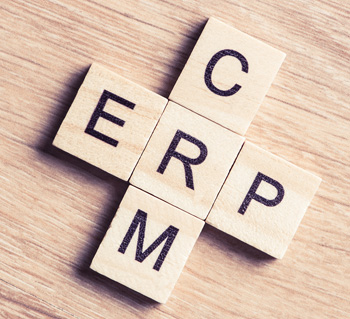 ERP software generally has specialist modules for vertical sectors, which can differ greatly. Its history started in manufacturing as Materials Resource Planning but ERP has long since extended to retailing and supply chain and even service industries. Several of the major ERP solutions have their own CRM modules, but all work well with the leading standalone CRM systems, as they must in today's market.
But Customer Relationship Management does what it says on the cover, acting in many respects as an extension of ERP into marketing, sales, order processing and generally ensuring that customers or clients are looked after properly and will buy again. The front end of CRM is of course focussed on interactions with customers, from pop-up transaction history for contact centre agents to immediate information for field sales people.
But the back end is about integrated administration and nowadays very much the automation of processes, real-time stock information and order processing to credit/debit card acquisition to the warehouse and logistics functions for fulfilment. We know where all that is handled.
The value of smart CRM systems has grown enormously since the early days of (in hindsight) the massive and slightly clunky but pioneering Siebel system, still a leader and part of the Oracle product range. Today, CRM is almost more about mobile working than contact centres or office-based sales agents. All of the leading CRM vendors allow their products to be deployed on any mobile platform.
Another important aspect is that CRM has evolved to cover all types of relationships. Customers and clients can be patients, job applicants, students, association members or volunteers. But the relationships can also be with business or professional partners, vendors and distributors, suppliers, intermediaries and many others.
CRM and ERP work hand in glove in many areas but above all in sales and service process automation and in targeted marketing. CRM for example today even extends to potential customers and trial use of bought-in contact lists. Today, both are increasingly linked to Business Intelligence and analytics, harnessing the value of the depth of information that builds up in CRM systems. There is a very real sense in which CRM in its first year or so of implementation is at an intern stage—technically qualified but lacking experience and knowledge. But as time goes on the sheer depth and richness of the information builds up to an immensely valuable resource.
The imminence of GDPR (see previous blog, ERP and GDPR) poses definite challenges to CRM systems. By and large they were designed and developed in particular organisations to collate all of the available information. That includes complying with personal data regulations in particular industries, for example financial services. One of the original selling points of CRM applications was the concept of 'cross selling' to existing customers. It is certainly a rich vein of potential—but it totally depends on what each of them signed up to in the first place. GDPR accentuates the data protection regulations already in place for personal data and adds complexity, in the sense that now an organisation has to prove it is compliant and be fined if not. An actual data breach is not required.
But that partnership between ERP and CRM certainly still offers potential for future development. In competitive, fast-moving sectors it is the engine of fulfilment to the satisfaction of customers. It is also increasingly the smart cortex, the brainpower of the organisation. It is where management can obtain analysis and insights, potential lines of development and expansion and the decision-making information to progress.
This blog post was written by Sean Jackson, Managing Director at Lumenia Consulting. If you would like further information on ERP or any aspect of ERP Strategy, Selection or Implementation, please send an e-mail to Sean Jackson